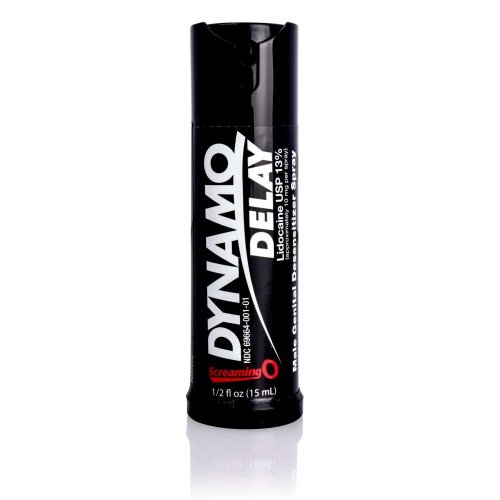 Screaming O - Dynamo Delay Spray - Black Label Edition - 1/2 fl. oz.
Made By:
The Screaming O
---
View Additional Images
---
---
Last Longer! Prolong Your Pleasure!
Enjoy longer-lasting lovemaking with new and improved Dynamo Delay Black Label Edition, a deluxe desensitizing spray designed to delay male orgasm and prevent premature ejaculation. Clinically tested to be fast-acting and non-irritating, Dynamo Delay is the strongest formula of its kind available over-the-counter, delivering more concentrated Lidocaine in each spray to temporarily reduce skin sensation and prolong your sexual encounters. Dynamo Delay Black comes in a pocket sized TSA-friendly bottle perfect for taking on flights and carrying discretely on the go. If youre seeking to extend your passion and pleasure your partner, Dynamo Delay Black Label Edition is the ideal tool to cool your tool for mutually satisfying sexual encounters.
New & Improved
Maximum Strength Lidocaine 13% USP
Over 150 sprays per bottle
Clinically tested to be fast-acting and non-irritating
Product Details
Box Dimensions:
Length: 5.50 in.
Width: 4.00 in.
Depth:1.25 in.
Weight: 0.1250 lbs.

Manufacturer Code: SCRDDBL101

---
Customers Who Bought This Product Also Bought